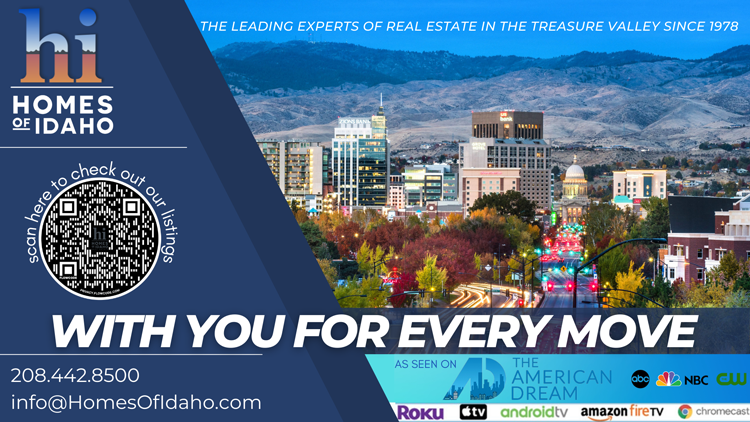 Homes of Idaho is your hometown connection to real estate in southwest and central Idaho. We are the place where all of your real estate dreams come true! We have been engrained in the Treasure Valley since 1978, and we guarantee that we will accommodate your every real estate need with the highest level of skill and care. We believe in always providing first-class service through our well-trained agents and technically advanced offices. We believe in achieving business excellence through personal integrity. Let our dedicated agents help you find your dream home, or advise you on any real estate transaction. Contact us today to see what a difference local knowledge and over a century of combined real estate experience can make in your next transaction! Allow Homes of Idaho's experienced team to go to work for you.
Our Mission:
Provide our clients with the highest level of service, value, and expertise imaginable.
Our Vision:
To be the most inspirational and respected real estate brokerage in the state of Idaho known for our relational and collaborative culture, cutting-edge extensive marketing and tools that we equip our clients and agents with, and our immense community impact.
Our Values:
Honestly
Optimism
Integrity
Specialties:
Our experience is vast, and we have agents who can assist with any transaction or client type. Residential, Commercial, Bare Land, Investment, New Construction, Luxury, Manufactured Home, Foreclosure, Estate, 1031 Exchange, Probate, Divorce, First Time Home Buyer, Veteran & Military, Relocation, Trade ups, Trade downs, etc.
Benefits of listing with Homes of Idaho:
We are deliberate and focused to market our listings to a targeted online audience of home buyers that will most likely be interested. We focus on showcasing our listings locally and nationally utilizing the most cutting-edge marketing that is available to the industry thanks to our incredible marketing partners and staff. We have a strong online reputation to bring the exposure to your listing that is deserved to achieve the highest possible selling price and the most money in your pocket at the closing!
Benefits of buying with Homes of Idaho:
We focus on finding both "on market" and "off-market" properties, and we have cutting-edge tools and resources that give our clients a "leg up" when searching for the perfect home! We provide the most accurate, reliable, and up-to-date listing information straight from the MLS and our other resources. We are always either a click or phone call away, and we strive to provide excellent service beyond your expectations whether utilizing our tools and resources or working with any of our real estate experts.
Other Client Perks:
If moving locally, use a Homes of Idaho client courtesy moving truck for FREE to make your move less stressful and more seamless!
Ask us to drop by with our SOLD bus for better exposure when listing your home with us, or take a tour with us on our SOLD bus to find your next home!
Download our mobile app to use GPS, map, and advanced searching options (link to: app.idhomesearch.com).
These are only some of the many perks of trusting a Homes of Idaho agent with your next real estate transaction!
Recognition and Achievements:
Homes of Idaho is nominated Best Of Zillow for being in the top 10% of Zillow, and for our reputation of being trustworthy, responsive, and knowledgable.
Homes of Idaho is locally endorsed by Joey & Lauren in the Morning on My 102.7. Joey & Lauren have first-hand experience working with Homes of Idaho to sell their smaller home and upsize to a brand new home after finding out they were expecting a boy!
Joey: "We are so thrilled with our new dream home and big shoutout to Homes of Idaho for being amazing with selling our current home and buying this bad boy. Can't wait to create so many memories here!"
Lauren: "Shout out to the most amazing realtors/friends around! These peeps helped us sell our house and close on our dream house in record time!!! 🙌 We are so grateful for their help and patience with us! SERIOUSLY, call Homes of Idaho if you're looking to buy or sell! They are ahhhhmazing! Thanks, guys." ☺️🏡
Homes of Idaho is featured as the top 1% in real estate across the country on the national television show, The American Dream Network. Homes of Idaho has been established as the local market expert and voice within the show and network. The American Dream Network started in California and is now streaming and airing in nearly every major city. The central focus of the show is real estate and the people behind it. The show weaves its storylines between topics like home ownership, lifestyles, entrepreneurship, charity, neighborhood, and family. The American Dream showcases the lifestyle, the communities, and the people in each city. Follow along by watching on Amazon, Apple TV, and Roku, or by watching live on The American Dream website or on CBS. Shows air on Sundays and are viewed in over 10 million households weekly.
If you're a Homeowner and would like to see how a national TV Show can help you SELL your home, contact your Homes of Idaho agent to learn more!
Community Involvement:
Homes of Idaho is extremely active in their local community.
Homes of Idaho is an Idaho Chamber of Commerce member in each city they service.
Homes of Idaho leads many charity events and sponsor many charitable organizations.
Homes of Idaho has been the stage sponsor for God & Country Festival for several years.
Homes of Idaho hosted their very own Gala to benefit Advocates Against Family Violence in 2019.
Homes of Idaho hosts annual community events for Trunk or Treat, Easter Egg Hunt, and Pictures with Santa. All events are FREE to the community with donations to benefit their charitable organizations.
Homes of Idaho has led or sponsored events that have benefited The Boys and Girls Club, The Salvation Army, Habitat for Humanity, Toys for Tots, Stampede for the Cure, The REACH Foundation, Idaho Gives, Family Justice Center, The Idaho Foodbank, and others!
——————————————————————–
Contact a Homes of Idaho agent to get started with us today!