Thanks to Mike Butts at the Idaho Press-Tribune for writing an article covering the 2010 God and Country Festival. Thanks to the Nampa Police Department and the Idaho Center for working together to help address exiting issues this year. We're hoping our visitors experience a quick and easy exit from the parking lot after the event!
Nampa, Idaho - The God and Country Festival, an annual free concert and civic event held at the Idaho Center the Wednesday before the Fourth of July, will feature popular rock band Needtobreathe and singer/songwriter Meredith Andrews on June 30, 2010. The gates open at 5:00 pm for the 44th annual Festival, which will include a tribute to World War II Veterans and other military service members, speeches from local officials, and other musical artists.
The non-profit event, which is free to the public through the generosity of donors and sponsors, includes the largest fireworks show in the Treasure Valley, according to Carol Andrews, President of the all-volunteer Board.
"A lot of people ask us how we can put on such a major event that draws crowds of up to 14,000 people for free. While we will always keep it free to the public, we do depend heavily on businesses and churches advertising in our 11x17 supplement that goes out to over 22,000 subscribers to the Idaho Press-Tribune."
She says that the tabloid, which is scheduled to be delivered to newspaper readers on Sunday, June 27, is a great place to learn about the event's history and the volunteers behind the God and Country Festival. Visitors can learn more about attending or sponsoring the event at www.godandcountryfestival.com.
"This event started 44 years ago in part as a venue for the public expression of faith as protected by our Constitution. The Founders of our country were for the freedom of religion, not the freedom from it, and we're here to carry on that message."
Meredith Andrews, an accomplished artist on the national music scene, will help continue that tradition, performing her popular brand of Christian music at the event. Andrews has numerous hit songs, including "Can Anybody Hear Me" and "Never Move On."
The Festival is also helping to introduce the community to the heartfelt messages of local artists such as the Music Ministers Band, A Life Set Apart (www.myspace.com/alifesetapart), and Julie Turner (www.julieturnermusic.com).
About Needtobreathe
Needtobreathe (www.needtobreathe.net/bio/) is an accomplished rock band that famously hails from Possum Kingdom, South Carolina. Their distinctly southern flavored style of music has been featured in popular movies and television shows, including The Hills, P.S. I Love You, ESPN, Fox Sports, and To Save a Life. The song "Stones Under Rushing Water" was recorded with Sara Watkins of the Grammy award winning group Nickel Creek, and other hit songs include "Something Beautiful," "Washed by the Water," and "Lay 'Em Down."
About Meredith Andrews
Meredith Andrews is a nationally acclaimed Christian artist with a heart for worship, family, and adoption. Andrews attended Liberty University where she majored in family and child development, and planned on working in an orphanage after graduation. She was born an only child, but her parents provided homes for many foster children. "We had about 20 kids come through our home in a period of about 10 years," she recalls. "We ended up adopting three of the boys. They are my brothers now. I forget they are adopted."
Just as God led Andrews to Liberty University then on to Harvest Bible Chapel, he opened doors in Nashville that led her to sign with Word Records. "I wasn't really looking for a record deal. It just fell in my lap," says Andrews. "I'm so humbled by it all. It's obvious that it's the Lord's hand and not my own."
About the God and Country Festival
The God and Country Festival is a free annual concert, fireworks show, and civic event celebrating religious freedom of expression and assembly in America, and honoring the men and women in the military who serve to protect that freedom.
God and Country Association, Inc.
P.O. Box 993
Nampa, ID 83653
www.godandcountryfestival.com
Media Contacts:
David Ferdinand, Board Member: 208-467-1888
Patti Syme, Board Member: 208-573-9300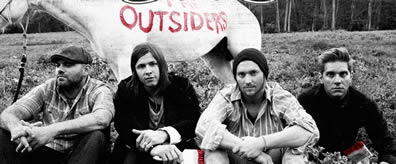 We are thrilled to be able to announce our featured artist for 2010, Needtobreathe. These guys are incredibly unique and talented. Here's a link to the Needtobreathe Wikipedia page and their official website.
We're also thrilled to welcome the following Christian music artists to the 2009 Festival:
Meredith Andrews
Treasure Valley Music Ministers Band
Ryan Stevenson
A Life Set Apart
Julie Turner
Don't forget to mark your calendar for June 30th, 2010!
Make your plans now for the 2010 God and Country Festival on Wednesday, June 30 at the Idaho Center. We are excited to have a national Mystery Artist who can't be announced contractually until May. Let's just say that they are experiencing nationwide success with hit songs that have made it onto the soundtracks of blockbuster movies.
We have a special theme this year: honoring our nation's WW II Veterans!
Plus, in addition to the Mystery Artist, we can announce that national artist Meredeth Andrews will be performing at the event, as well as Treasure Valley's own Music Minister's Band. All of these bands and more will also be performing at this year's free concert. The fireworks show is the largest in the Treasure Valley, and is choreographed with patriotic and inspirational music celebrating, among other things, our freedom to assemble, and our God who endowed us with those freedoms.
Schedule of events
5:00 - Gates open
6:00 - Entertainment starts, including Music Ministers' Band and Meredeth Andrews.
8:00 - Grand celebration, including a salute to our military and their families, presentation of the colors, national anthem, awards & more, plus our National Mystery Artist.
10:20 - Fireworks show
Treasure Valley Music Ministers
In addition to our national Mystery Artist and Meredeth Andrews, part of this year's opening entertainment will be the Treasure Valley Music Ministers' Band including Jesse Schuster, Scott Riggan, Gordon Knapp, Mark Thornton, Andy Hendley, and Doug Connelly.
We could use your help!
We are looking for business, church, and individual sponsors to keep this event going. The God and Country Festival is entirely volunteer-led, and is supported by donors and sponsors. Your support helps us bring great Christian music to the Treasure Valley and give much-needed publicity to the ministries that set up tables at the event free of charge.
Download a Sponsor Opportunity Pack.
Note: The Idaho Center does not allow outside food or drinks to be brought in, but plenty of food and snacks are available at the concession stands. You may bring empty water bottles and refill them at the drinking fountains. Also, no high-back chairs are allowed. Low-back beach chairs are allowed, blankets are allowed, and there are chairs and bleachers to sit on if you don't want to bring anything.
Want to support the Festival and keep it free? Please consider buying glow-sticks and contributing at the Festival or here on the website through PayPal. Thanks for your support and prayers for the success of this event!